Archive for April 1st, 2010
Happy April Fool's Day everyone. Here's a cartoon that I made a few years back… Enjoy!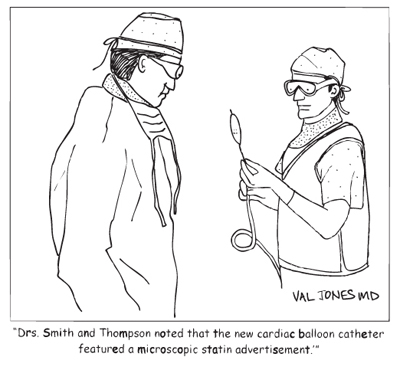 It has been known for decades that dietary sodium is significantly associated with hypertension and coronary heart disease.  Despite this knowledge, Americans continue to consume more sodium, most of it coming from processed foods.  Various approaches have been used to help individuals modify their behavior, one of the most popular of which is the DASH diet.  Given what we know, you would think that a low-sodium diet would be especially popular with "alternative" practitioners.  After all, what could be more "natural" than lifestyle modification (a mainstay of real medicine since…well…forever).
But as any clinician knows, it's much easier to get someone to take something than to eliminate something.  Lifestyle modification is difficult, but achievable to a degree as experience has shown with cholesterol, smoking, and other modifiable risk factors.  A recent study in the New England Journal of Medicine evaluated what the possible effect would be of lowering U.S. sodium consumption to 3g/day.  The authors found that, "Modest reductions in dietary salt could substantially reduce cardiovascular events and medical costs and should be a public health target."